Let us be the epoxy company you turn to for every project.
At Patriot Concrete Coatings, we know how important it is for an epoxy company to take the time to get to know its clients and fully appreciate their vision for a space. We work closely with our customers to ensure that we not only meet their needs but exceed their expectations. Our aim is to be a top-notch epoxy company that offers customers an exceptional experience from start to finish.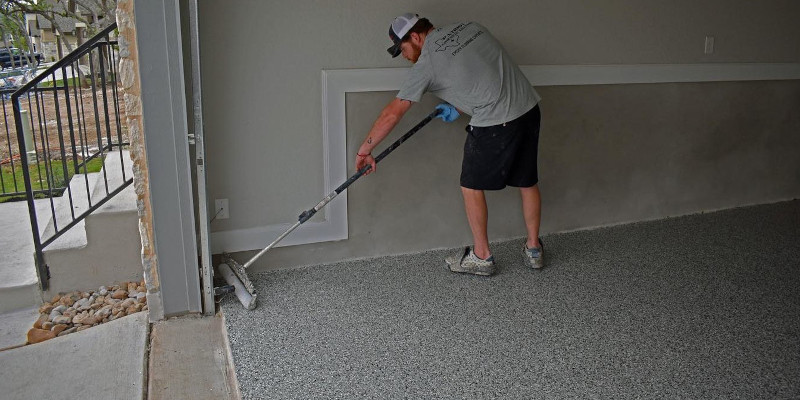 Layers of epoxy resin poured over a concrete substrate can create a beautiful and durable surface that is ideal for high-traffic areas or surfaces that get frequent use. Here are a few places we can use epoxy to upgrade your space:
Residential garage floors. An epoxy floor is great because it is a smooth and non-porous surface that is easy to clean and maintain. An epoxy coating dramatically upgrades the utility and look of a concrete garage floor because it is resistant to automotive fluids, such as diesel fuel, gasoline, antifreeze, and motor oil.
Commercial building floors. Commercial flooring made from epoxy is exceptionally durable and easy to clean. Epoxy holds up great to both heavy foot traffic and the weight of equipment or machinery, which makes it a fantastic option no matter how you use your commercial space.
Countertops. You can use epoxy to create beautiful, heat and scratch-resistant custom countertops that are incredibly durable. Epoxy countertops are also available in various colors and finishes and can even be made to look like natural stone countertops, such as granite or quartz.
Our team of professionals has the knowledge and experience to handle any epoxy project. Contact us if you want a reliable epoxy company to help you create a durable yet luxurious-looking option for your latest home improvement project in New Braunfels, Texas. We can't wait to help you transform your home with epoxy!
---
At Patriot Concrete Coatings, our epoxy company proudly serves San Antonio and New Braunfels, Texas.