Epoxy floor coatings are renowned for their durability, ease of maintenance, and aesthetic appeal. However, like any other surface, they can experience damage over time due to numerous factors. Here are some common types of epoxy floor coating damage and advice on addressing them.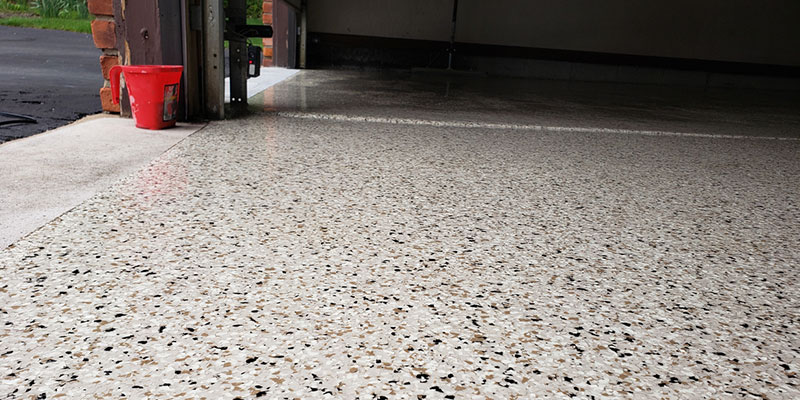 Blistering and Peeling. Blistering or peeling is often the result of improper floor preparation or moisture present during installation. Small to large epoxy sections may lift from the substrate when this occurs. Solution: The affected area should be ground down to the concrete, and the surface should be thoroughly cleaned and dried. Then, a fresh coat of epoxy can be applied. It's a job best left to our team, who have the necessary tools and expertise.
Discoloration and Yellowing. Prolonged exposure to sunlight can cause the epoxy coating to discolor or yellow, especially if a UV-resistant product isn't used. Solution: To resolve this issue, the discolored layer must be lightly sanded and then have a UV-resistant topcoat applied to prevent future yellowing.
Cracking. Cracks can occur due to substrate movement or if the epoxy is applied too thickly. This can create unsightly lines across your floor. Solution: Cracks should be filled using a high-quality epoxy repair product, then the floor should be re-coated.
Chemical Stain. While epoxy resists most chemicals, certain types can cause staining or etching. Solution: Mild stains can often be removed with a suitable cleaner. For severe staining, the area may need to be sanded and re-coated.
Chalking. This refers to forming a powdery residue on the epoxy's surface, usually due to weathering. Solution: Chalking can be fixed by cleaning the surface thoroughly and applying a new topcoat.
Proper installation and maintenance play a crucial role in the longevity and appearance of your epoxy floor coating. At Patriot Concrete Coatings, we utilize the best practices and materials in the industry, ensuring your floor remains beautiful and functional for years to come. Please contact us if you're facing any issues with your epoxy floor; we're here to help.