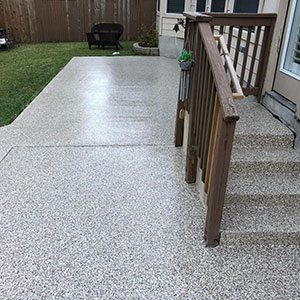 There are several types of flooring out there that you could choose from, but one of the most durable flooring types is epoxy flooring. Made from a combination of polymer resins and hardeners, an epoxy coating is usually applied over the top of a concrete floor to protect it from damage.
Epoxy flooring is known for its durability, and that's why it is a popular choice for many commercial properties, as well as residential ones. But just how durable is epoxy flooring? We'll break it down for you here:
It Can Support Heavy Loads- One reason epoxy flooring has earned its reputation for durability is because it is strong enough to support a huge amount of weight—about 10,000 psi (pounds per square inch) according to most sources. As a result, these floors are used often in businesses that need to store large equipment and machinery.
It Is Damage Resistant- Epoxy flooring doesn't tend to get damaged easily. It's naturally scratch resistant, and you can add a top coating to make it even more scratch-resistant than it already is. In addition, epoxy flooring resists stains, chemicals, cracks, dents, and other damage.
It Lasts for Years- The amount of time your epoxy flooring lasts depends on several factors such as how well you maintain it, but these floors usually last between 10 and 20 years in residential settings.
If you are interested in epoxy flooring for your home or business in San Antonio, Texas, our team at Patriot Concrete Coatings is here to help. Call today to learn more.