Enhance your home with epoxy garage floors.
Epoxy flooring is a highly durable material that can withstand heavy foot and vehicle traffic, impacts, scratches, and other types of damage. Our team at Patriot Concrete Coatings knows that the durability of epoxy makes it perfect for garages, where heavy items like cars, lawnmowers, and other tools or appliances are often stored. We're proud to install epoxy garage floors for customers in the New Braunfels, Texas community.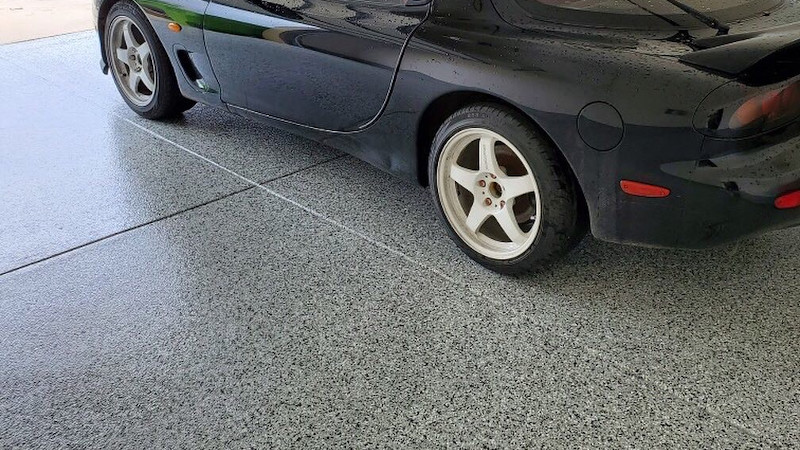 One of the most significant benefits of epoxy garage floors is their high level of resistance to chemicals and stains. Its smooth, non-porous surface can help to prevent water damage and mold growth if a leak occurs somewhere in your garage, and it is easy to clean and dry if something does spill or leak. With epoxy garage floors, you don't have to worry about materials like oil, grease, gasoline, and other fluids commonly stored in your garage.
Choosing our epoxy garage flooring means you'll get to enjoy a long-lasting, low-maintenance floor that looks great and can handle the demands of daily use. Plus, because epoxy flooring is a strong and attractive alternative to the plain concrete flooring you typically find in garages, you'll add value and visual appeal to your home. The epoxy flooring solutions we offer come in a wide range of colors and finishes, allowing you to choose a style that aligns with your personal taste.
If you're curious about the benefits of epoxy garage floors or would like a quote, contact us today to learn more. We'd love to help you add value to your home with an epoxy garage floor.
---
At Patriot Concrete Coatings, we install epoxy garage floors in San Antonio and New Braunfels, Texas.